Building a Futuristic, Flexible and Scalable Business Process Management Solution for a Food Delivery Giant​
The client is a popular multinational restaurant aggregator and food delivery company that boasts
Over time, the demand for food delivery has grown substantially. With a digitization push boosted by easy access to internet and data, consumers have shifted their preferences toward online shopping and food deliveries! It's a complex and sensitive business, where maintaining excellent customer satisfaction on uncontrollable issues like rider delays and restaurant errors is difficult.
This becomes even more complex when volumes fluctuate and reach their peak during lunch and dinner hours. Businesses' CSAT levels were dropping to as low as 60% as customers downvoted support systems even for concerns related to riders or restaurants and compensatory credits reached alarming numbers as customer behavior patterns were skewed.
The food delivery giant partnered with JindalX in early 2017 by leveraging a co-managed service model and
scaled up by 900% in less than two years. 
Enabling a real-time delivery business process management (BPM) solution began with a human-centric approach which included putting the
customers at the center of the journey
and employees at the heart of advanced processes. JindalX built a tech-focused
customer experience (CX)
strategy that enabled
smart volume predictions
and staffing based on social events, festivals, sports events, and lunch/ dinner hours. We developed
NLP/ ML-based chatbots
to automate internal processes, including the IT helpdesk, HR, and Administration and assess the intent behind queries.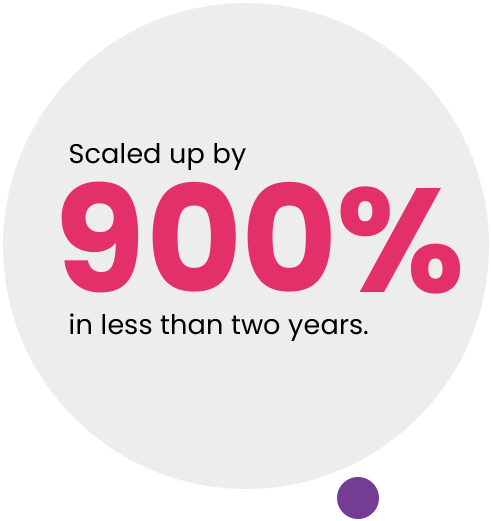 JindalX also hired a team of dedicated specialists who went through a minimum of 6 weeks of comprehensive training before getting certified. They leveraged the intelligent system to efficiently manage 360 Real-time monitoring (RTM) and over 50% volumes on omni-channel platforms, delivering up to 1 million chats per month using 3-4 chat concurrency models. This next-gen on-floor help desk technology empowered the in-house operations team to deliver qualitative and quantifiable results across various CX metrics like AHT, FTR, and Instant Resolution (IR) and reach over 50% improvement in quality scores.
Daily critical function checklist for the team leaders (TLs) to manage operations.​
Customer rating-based queue for preferential service support & resolution.
Investments to groom and train associates by external consultants.
Hourly live drills to announce & compare sitewide CSAT & rewards.

Special training sessions (Gamification-based) to overcome context-based situations.
CSAT Scores for over 4 Years
Increased Operational Efficiency​
Reduction in Lost Orders​
JindalX is a global business outsourcing company creating success stories for over 20 years. We're the dreamers, creators, and innovators with a vision to help our business partners, clients, and people achieve exponential growth.