From carrying heavy school bags with textbooks and notebooks on their shoulders to reading different subjects on a tablet with one tap, digitization has truly transformed the education sector and how today's students access information across the globe. The 'one size fits all' traditional mode of education has been taken over by the new tech-backed education model that is more accessible, approachable, and affordable to students.
According to a recent study by Statista, the value of the education technology sector in India was estimated to be over $750 million in 2020, which is expected to soar to more than $4 billion by 2025. The Covid-19 pandemic intensified the need for online learning, as governments worldwide enforced strict lockdowns for anybody who isn't a frontline worker to embrace new ways of working, i.e., work from home. While it impacted multiple businesses and livelihoods, the fundamental right of every child, the future of our country, guaranteed through the Indian constitution under the article "Right to Education", also got affected.
The world was in chaos as the pandemic shut down schools, leaving students and teachers reeling. Safety became the priority for people. Digital learning emerged as a viable solution, allowing students to continue their education from the safety of their homes. It was a time of great change, adaptation, and resilience. This shift to digital learning allowed students to keep up with their studies and presented a unique opportunity for Indian startups in the education space. Not just the students but even the professionals used the time they saved on traveling to upskill and gain exposure to new opportunities in the market. Many edtech startups saw a surge in demand for their programs and soon became the blue-eyed boys of the Indian startup ecosystem.
Due to the increased demand during these unprecedented times, several mediums were adopted, re-advertised, updated, and made available to the average user, creating the need for efficient customer support services. Edtech companies had to ensure that their customer service matched the pace of the demand for their services, like addressing rising students' or customers' concerns, including enrollment policies, demo classes, payment and scholarships, and most importantly, asking subject or topic-related doubts.


Major Challenges Faced by EdTech Sector

Undoubtedly, the eLearning sector is revolutionizing the traditional learning landscape, offering innovative solutions at competitive prices to enhance teaching and learning – making it accessible to all. However, like any other industry, the edtech sector faces its fair share of challenges in terms of Customer service.
I) Ensuring Personalized Support
With a diverse customer base, each with unique needs, it can be challenging to provide personalized support to everyone.
Example: Let's say a class XI student has a doubt regarding a mathematical theorem and needs a detailed solution but isn't comfortable getting on a call and would rather seek help over email or WhatsApp. An online learning platform must offer them flexibility- allowing them the option to write/upload a picture of their query and get the requisite help within the acceptable TAT.
Companies can leverage data and analytics to gain customers' behavioral insights like emotions and preferences and allocate specific support representatives. This could help companies personalize their interactions with their user base and provide relevant, especially vernacular, support across different channels. Platforms can also use chatbots to receive messaging, answer basic FAQs, and receive files and queries.

II) Providing Effective Technical Support
Online learning platforms rely on technology, so technical issues such as incompatible devices, internet connectivity, or software glitches can arise frequently. For example, a student may start a lesson on their laptop, switch to their phone during a break, and finish the task on their tablet later in the day. Edtech companies must ensure that students can seamlessly transition between devices without losing their progress or experiencing interruptions.
Additionally, they need to ensure that their support team is adequately trained and equipped with the necessary tools and knowledge to promptly solve similar, complex technical issues. Establishing a system for tracking and resolving customer support tickets is also crucial to ensure no problems are overlooked or unresolved.
III) Maintaining Consistent Communication
Maintaining consistent customer communication is crucial in building better long-term customer relationships, enhancing retention, and gathering feedback. In today's rapidly evolving technological landscape, timely and comprehensive communication with customers regarding any updates or changes that may impact their experience with the platform is essential, particularly in the highly competitive student market. EdTech companies must establish a clear and consistent communication strategy incorporating regular updates, notifications, and announcements to achieve this. Companies could also leverage social media and other digital channels to engage with customers and provide valuable information and support.


Breaking the Barriers: How JindalX helped an EdTech startup provide last mile education seamlessly
India's one of the top edtech unicorns partnered with JindalX in 2022, with customer service challenges like a rising number of unaddressed complaints across different channels, call interruptions due to language issues and network disturbance, multiple sales queries due to lack of clarity over the module, etc. After holding strategic meetings with the leaders, we recognized the need to adopt a different approach to address students' queries with empathy and personalized support, which we believe is crucial for them to help them build a brighter future.
Our team of experts built a customized CX strategy for the partner that tracks and feeds students' details, which further helps our assistants effectively handle those students' queries. We hired a team of dedicated people and trained them through our customized, two-week training module, which included product training, tailored customer interaction, and tech-based practices. So that they can address students' queries, such as what their course selection, class timings are, providing them with the list of their concerned faculty, fee submission details and updates, post-admission questions, and more.
To do so, we divided our strategy into three parts which included-
– Knowledge management system:
It enables the team to improve accessibility to different data, information, and process guidelines needed for knowledge, including FAQs, articles, troubleshooting manuals, and other resources that can be used to resolve students' issues quickly and efficiently. Additionally, our KMS helps to identify gaps in information and areas where further training is needed for our people.
– Aqua:
Our team utilizes the proprietary tool Aqua to streamline the process of recording customer calls and monitoring call quality, facilitating the task for our team leaders. It helps them streamline their daily hassles of manual call auditing and reporting from error-free auditing to a robust reporting system. We have seen a significant improvement in how we interact with the students to address their specific queries regarding their courses and more.
– Xcellence:
The reports generated get fed into our performance management solution Xcellence, which produces individual scoreboards. Our team leaders and supervisors provide feedback regularly, which helps the team members to work on their shortcomings and improve their skillset to provide more efficient, personalized solutions to the clients.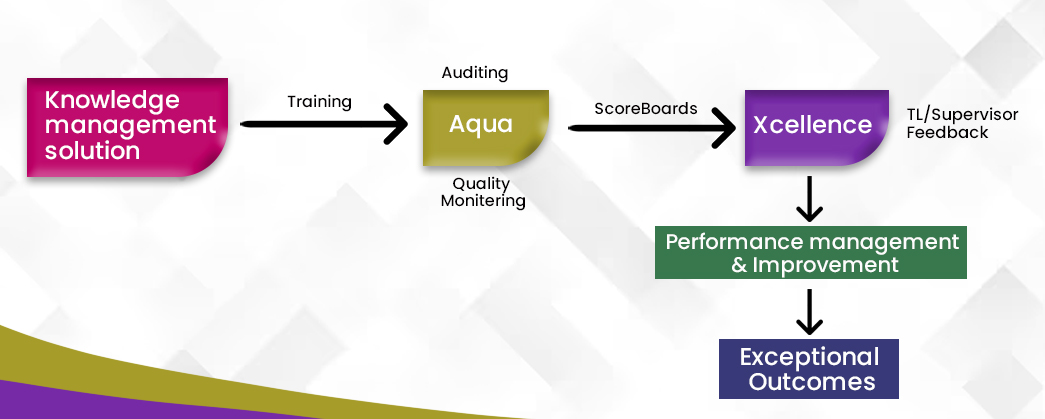 Final thoughts
In today's modern and fiercely competitive academic world, students rely heavily on edtech platforms for support, to learn, gain skillsets and stay ahead of the competition. The increasing dependence on online learning highlights the need for edtech companies to continuously innovate and enhance their services to provide students with the necessary tools and support to succeed academically. Given the significant importance placed on student success, eLearning companies must prioritize better user experience and provide personalized and timely support to meet individual needs.
Would you like to explore the opportunities with omnichannel support for your customer journey and experience? Connect with us!